PUBLICATIONS
Christopher L. Bell
Christopher Bell has delivered numerous talks at seminars around the world and wrote the "Barlow Lyde & Gilbert Environmental Law Digest" as well as being a co-author of the book "Reinsurance Practice and the Law".
Prof. Dr. Helmut Heiss, LL.M. (Chicago)
Professors Heiss has published and been involved in the publication of numerous books and articles. For your ease of reference his publications are listed here ».
I Editorship
II Authorship
III Editorial and authorship in the context of the research project "Restatement of European Insurance Contract Law"
Ulrike Mönnich
» Publications
» Seminars and conferences
Selected Publications
Contributions to manuals and commentaries (chronological)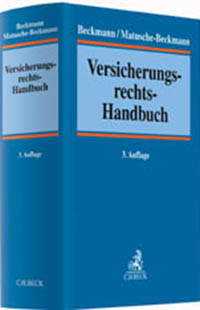 Beckmann/Matusche-Beckmann (Hrsg.)
Versicherungsrechts-Handbuch, Beck-Verlag
Bearbeitung des Kapitels "Europäisierung des Privatversicherungsrechts"
3. Auflage 2015, 77 - 140,
2. Auflage 2009, 70 – 119,
1. Auflage 2004, S. 31 – 68
Heiss/Mönnich (Hrsg.)
Privatversicherungsrecht
Gesetzessammlung
Dike Verlag, Zürich/St. Gallen 2014
Brunner/Schnyder/Eisner-Kiefer (Hrsg.)
"Allgemeine Geschäftsbedingungen nach neuem Schweizer Recht"
Schulthess, Zürich/Basel/Genf 2014,
Beitrag: "AGB und intertemporales Recht", S. 287 - 299.
Hsu/Stupp (Hrsg.)
Basler Kommentar zum Versicherungsaufsichtsgesetz
Helbing Lichtenhahn Verlag, Zürich 2013,
Kommentierung von Art 2 S. 26 - 68 (gemeinsam mit Helmut Heiss)
Honsell/Vogt/Schnyder/Grolimund (Hrsg.)
Basler Kommentar zum Versicherungsvertragsgesetz, Nachführungsband
Helbing Lichtenhahn Verlag,
2012 Kommentierung zu Art 100 Abs. 1, Art 101, sowie gemeinsam mit Helmut Heiss: Art 101a-c
Langheid/Wandt (Hrsg.),
Münchener Kommentar zum Versicherungsvertragsgesetz Band 2,
Beck-Verlag;
2. Auflage (im Druck - geplant für 2016)
1. Auflage 2011
Bearbeitung folgender Teile der "Lebensversicherung":
Einleitung (gemeinsam mit H. Heiss),
§ 151 (Ärztliche Untersuchung)
§ 161 (Selbsttötung)
§ 162 (Tötung durch den Leistungsberechtigten)
§ 165 (Prämienfreie Versicherung)
§ 166 (Kündigung des Versicherers)
§ 167 (Umwandlung zur Erlangung eines Pfändungsschutzes)
§ 168 (Kündigung des Versicherungsnehmers)
§ 169 (Rückkaufswert)
§ 170 (Eintrittsrecht)
§ 171 (Abweichende Vereinbarungen)
Professional articles (chronological order)
"Vergütung der Ruhestandsplanung und rechtliche Rahmenbedingungen"
(Remuneration of retirement planning and regulatory framework, jointly with Jan Voys) in:
Schiereck/Haupt/Neuenfeldt (Hrsg.)
Ruhestandsplanung (Retirement planning),
Springer-Gabler-Verlag 2015, S. 161-188

"Versicherungsanlageprodukte im PRIPs-Vorschlag - Basisinformationsblatt statt Informationsoverload"
(Insurance based investment products in the PRIPs-Proposal – Key Information Document vs. Information Overload, jointly with Helmut Heiss), VR 7-8/2013 S. 32ff.
"PRIPs, IMD II und MiFID II – Legislativprojekte der EU zur Transparenz bei Versicherungsanlageprodukten",(PRIPs, IMD II and MiFID II – Legislative projects of the EU for Transparency in Insurance Based Investment products) in: Symposion-Sammelband, Velden, Gisch/Kronsteiner/Riedlsperger (Hrsg.)
Versicherungsvermittlung in Österreich 2013, S. 129 - 150.
Unisex - Tarife für Versicherungen: Die EuGH-Entscheidung vom 1. März 2011 - ein Jahr später,
(Unisex tariffs for insurances: Deh ECJ decision of 1 March 2011 - one year later) in: VR 2012, 20 – 27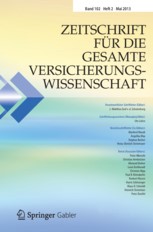 Vom "Alles-oder-Nichts-Prinzip" zur Quotelung der Versicherungsleistung,
(From the "all-or-nothing" principle to a proportional reduction of insurance benefits)
in: HAVE Sonderband, Gesamtrevision des Versicherungsvertragsgesetzes: Erste Analyse der bundesrätlichen Botschaft, (HAVE special edition, complete revision of the Insurance Contract Act)
Hrsg. Anton K. Schnyder, Schulthess 20 12 S. 73 - 106;
sowie in: ZVersWiss 2012, 447 - 475.
Unisex: "Die EuGH-Entscheidung vom 1. 3. 2011 und die möglichen Folgen",
VersR 2011, 1092–1103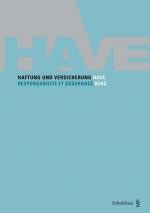 "Finanzrückversicherung – Bestandsaufnahme und gesetzliche Regelung im deutschen VAG",
in: HAVE 2/2008, 127 – 140
Auswahl älterer Publikationen
"Draft Law released – Reform of the German insurance contract law", in: Clifford Chance Insurance Review, June 2006, 18 – 20
"New Decisions of the German Federal Constitutional Court and the German Federal High Court on Life Insurance Strengthen the Position of the Policyholder", in: Insurance and Reinsurance Law Briefing, Issue 111, January 2006
"Die Neuregelung des Vermittlerrechts" (gemeinsam mit Nicole Baumeister), in: ZfV 2005, 284 – 290
"New Regulations on Insurance Intermediaries in Germany", in: Insurance and Reinsurance Law Briefing, Issue 97, November 2004, 4 – 6
"Haftung für Beratungsleistungen", in: Achtleitner/Everling, Handbuch Ratingpraxis, Gabler 2004, 735 – 746
"Haftung für Beratungsleistungen", in: Achtleitner/Everling, Rating Advisory, Gabler 2003, 257 – 268
"Warranty & Indemnity Insurance, die Versicherbarkeit von Garantierisiken aus Unternehmenskaufverträgen" (gemeinsam mit Dr. Klaus Grossmann), in: NZG 2003, 708 - 712 sowie VW 2003, 652 – 656

Dissertation
"Frauenschutz vor riskanten Geschäften", Böhlau-Verlag, 1999
Seminars/Conferences chaired
Seminar: " FIDLEG and EU rules " ( together with Helmut Heiss) in the seminar " Insurance Contract Act , pending matters and postulates in spite of a failed total revision , Zurich October 27, 2015 ; Seminar : Prof. Dr. Anton Schnyder ; European Institute of the University of Zurich
Invitation and Program [PDF]
Conducted and presented the first event of the new SGHVR - Section Liechtenstein, with the main theme : "Opportunities for the Liechtenstein insurance market", as well as giving the presentation : "Challenges in the distribution of life insurance products"; Vaduz March 5, 2015 ; University of Liechtenstein
Invitation and Program [PDF]
Seminar: " FIDLEG and insurance - life insurance as an investment product " (together with Helmut Heiss ) November 27, 2014 ; Forum: Regulation of financial markets ( University of Zurich )
Invitation [PDF]
Event " Agents Symposium 2013," lecture " Information Leaflet and PRIPs " Velden June 2013; Organizer: Austrian Society for insurance expertise
Invitation and Program [PDF]
Seminar "Insurance Investment Products - new transparency requirements in the design and marketing?", Zurich, May 2013; European Institute of the University of Zurich
Invitation and Program [PDF]
Seminar "Insurance Investment Products", Vaduz, March 2013, University of Liechtenstein
Invitation and Program [PDF]
Conference "5th Düsseldorf legal consultation day" lecture "Transparency Requirements in Life Insurance", Dusseldorf, Oct. 2012; Institute for Insurance Law of the University of Dusseldorf
Report »
Seminar "Obligations of Insurance Intermediaries liability for breach of duty", April 2012; University of Liechtenstein
Program [PDF]
Conference "Annual Meeting of the German Association of Insurance Sciences", lecture "From" all-or-nothing" principle for apportionment of the insurance benefit; comparative analysis of the VVG reform in Germany and the planned total revision of the Swiss SG ", Hannover, March 2012; German Association for Insurance Science
Invitation and Program [PDF]
Conference "Total revision of the ICA - opportunities and risks for insurance intermediaries" conference line and presentation "of the intermediary law revision", Zurich, February 2012; European Institute of the University of Zurich
Invitation and Program [PDF]
Seminar "Test Achats - a year later", Linz February 2012; Organiser: Austrian Society for insurance expertise
Invitation and Program [PDF]
Event "17th Legal consultation day "lecture" New law for private insurance law, in particular life insurance ", Vaduz, January 2012; University of Liechtenstein Lecture
Invitation and Program [PDF]
"Test Achats - The ECJ decision of 1 March and its effects" (according to the situation in Switzerland and in the EEA countries), Vienna, November 2011; Organizer: Austrian Society for insurance expertise
Invitation and Program [PDF]
Conference "Insurance Contract Act Lecture "comparing the SG & A revision to the German reform of 2008", November 2011; European Institute of the University of Zurich
Seminar "Test Achats - The ECJ decision on 1 March 2011 and its impact on the classification of insurance contracts", Münster, May 2011; Research Centre for Insurance at the University of Münster
Seminar "Test Achats - The ruling, its impact and possible consequences for insurance brokers", Fulda, May 2011; Federal Association of Small insurance and financial brokers
Numerous seminars and lectures , among others for reform of the Insurance Contract Law, to the law of insurance broking and risk management in companies between 2005 and 2009 ;
Management Circle Event "Product design in the field of Life" leading the conference and giving talk on "Transparency in Life Insurance" , Cologne , July 2006
Euro Forum Event "International Insurance Programs" , lecture "Introduction and Traditional Views" , Dusseldorf , August 2008; Versa / IIR
"Alternative Risk Transfer" (Presentation: Regulatory environment of financial reinsurance), May and September 2006 and November 2007. Versa / IIR
Veranstaltung "Produktgestaltung im Bereich Leben" Konferenzleitung sowie Vortrag "Transparenz in der Lebensversicherung", Köln, Juli 2006; Euroforum
Veranstaltung "Internationale Versicherungsprogramme", Vortrag "Einleitung und traditionelle Sichtweise", Düsseldorf, August 2008; Versa/IIR
"Alternativer Risikotransfer" (Vortrag: Regulatorisches Umfeld der Finanzrückversicherung), Mai und September 2006 sowie September 2007; Versa/IIR